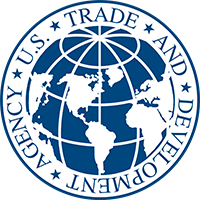 U.S. Trade and Development Agency
Funding Agency
U.S. Trade and Development Agency (USTDA), Department of State
Client Background
The U.S. Trade and Development Agency helps companies create jobs through the export of goods and services for priority development projects in emerging economies. USTDA links U.S. businesses to export opportunities by funding project planning activities, pilot projects, and reverse trade missions while creating sustainable infrastructure and economic growth in partner countries.
Project Details
The U.S. Trade and Development Agency helps companies create U.S. jobs through the export of U.S. goods and services for priority development projects in emerging economies. The Office of the Chief Information Officer has outsourced the IT Infrastructure Support to TechGlobal where our services include: maintenance and administration for network/system operations, data center management, tier 1-3 support, business process consulting, data analysis and reporting, enhancement and maintenance of Trade and Development Management Information System (TDAMIS), phased migration of agency services to the cloud, IT strategic planning. It also includes C&A and federal security compliance assurance support, end user technical support and training, security management, continuous monitoring and backup, mobile phones data communications planning and implementation, and website maintenance.
Achievements
The TechGlobal team migrated the entire agency to Office365, and deployed a remote identity access management frame work (RSA – Secure ID), a number of network and security appliances including: Cisco firewalls, Juniper JSA, RSA and FireEye.   Our staff also have deployed and continuously monitor Symantec end-point-protection and Nessus to protect USTDA from security vulnerabilities. Our staff work with the management to identify appropriate policies and procedures needed to obtain Authority to Operate. The staff members implement necessary processes, conduct quarterly and annual tests, and capture supporting evidence for the various audit teams. An example of this effort was our recent participation in the SendWordNow exercises that the USTDA participated amongst other Federal agencies as part of Continuity of Operation Plan (COOP) testing. Our team executed the exercises and provided the compliance status at the specified time intervals to DHS.
The TechGlobal staff work closely with the USTDA program non-IT staff to identify technology solutions, enhance existing management information system and implemented processes necessary to meet Federal requirements. An example of this close cooperation is our engagement in development of records management policy to maintain, destroy and/or archive agency communications that meet the National Archives Regulations and Policy guidelines.
Services
Project Management, system engineering, network engineering, system administration, security analysis and support, software application development, database administration, business analysis, inventory control, IT policy and procedure development and enforcement, IT security support, Office 365, cloud SharePoint and OneDrive support, data center management.