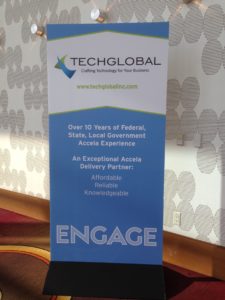 Los Angeles, CA – TechGlobal was a sponsor of the annual Engage gathering of Accela software users from around the country.  Accela product line supports numerous transaction based Government processes such as permitting, land management, code enforcement, licensing, and case management. TechGlobal is an official Business Partner with Accela and one of the most experienced implementers of the technology.
Over 1,000 customers and partners attended the conference where new mobile application functionality was showcased and several government entities won awards for their innovative implementations of Accela.
TechGlobal is an authorized Accela Business Partner and implementer, with a uniquely capable staff that has been focused on the technology since 2009 when we did our first implementation for the District of Columbia government. TechGlobal's project with the U.S. Treasury is the most successful Accela implementation at the Federal level, having been operational since 2010.
"TechGlobal has made a substantial commitment to our Accela capability over many years. Some of our team members have been drawn directly from the core Accela development team and thus are familiar with the technology at a level unprecedented outside of Accela itself", said Marina Havan, TechGlobal's CTO/Vice President. "Our team has successfully implemented Accela for the most complex and demanding Government clients, winning awards in the process. We are very confident in the high value we offer to the market."