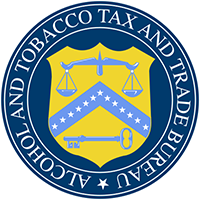 Alcohol and Tobacco Tax and Trade Bureau, U.S. Treasury Department
Funding Agency
U.S. Treasury Department, Alcohol and Trade Tax Bureau (TTB)
Client Background
TTB protects the public by enforcing the provisions of the Federal Alcohol Administration Act (FAA Act)to ensure that only qualified persons engage in the alcohol beverage industry. They are responsible for enforcing the laws regulating alcohol production, importation,advertising, labeling and wholesale businesses as well as regulating tobacco manufacturing and importing businesses.
Project Details
The Permits Online (PONL) project is the implementation and integration of a secure web-based system to support the online submission, routing, and processing of original and amended permits for alcohol and tobacco manufacturers, wholesalers, and importers, as well as permitting tax free firearms and ammunition. The PONL project included requirements, design, prototyping, application and database development, system integration, testing, technical and end user training, user acceptance testing support, as well as production deployment support.
Since being moved into production, TechGlobal provides system enhancements, maintenance, and operations support. The PONL was built using Accela commercial off-the-shelf (COTS) software and its Land Management (permitting), Citizen Access (ACA), Document Service (ADS) and Report Manager modules with utilization of Oracle 11, Oracle Application Service (OAS), TTB's Active Directory and e-mail services, as well as a data exchange interface to TTB's external IRIS database system.
Achievements
Prior to PONL TTB's permit application, the review process was exclusively paper-based using OMB-approved forms. Under the paper-based system, the average approval process took 67 days. TechGlobal created a fully automated permitting process that allowed applications to be submitted over the Internet and processed by TTB in a completely automated, web-enabled database environment. TTB reported a reduction in the average processing time of a permit from 67 days in TTB's previous paper environment to 23.23 days. Additionally, within two months of roll-out, PONL had more than 1,600 registered users, an adoption rate (by external permittees) of 63.65% plus a 95% customer satisfaction rate. Due to the successful deployment of the PONL system and benefits it brought to TTB, TechGlobal was awarded the Small Business Prime Contractor of the Year by the U.S. Treasury Department in 2011.
Services
TechGlobal has and is providing a range of services including but not limited to: project management, enterprise architecture support, requirements definition and full life cycle documentation, software development for integration with government payment portal, electronic document management support, data conversion, Accela configuration and customization, quality control and assurance, help desk support, deployment support and training.